Studying the Past to Create a Better Future
By Trevor Stewart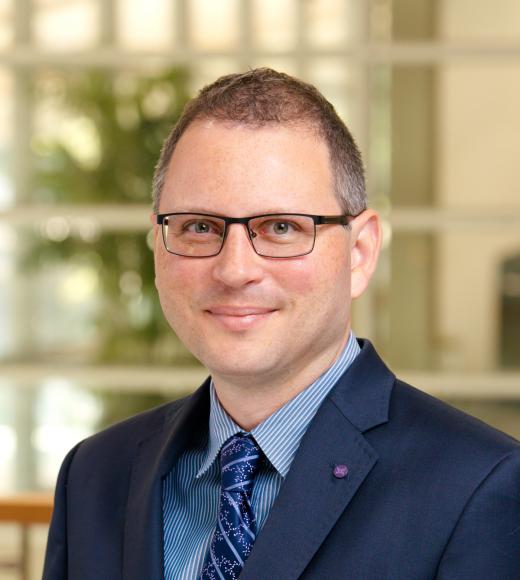 Human rights struggles are at the heart of the greatest global crises of our time. UC Davis is committed to working locally and globally to achieve an enduring impact in human rights research, education and advocacy –– from injustices facing California's vulnerable undocumented population to the needs of global refugees displaced by violence, natural disaster and genocide.
UC Davis professor and a champion of the Global Human Rights Big Idea, Michael Lazzara, speaks to his pillar of this Big Idea: working to understand the past in order to prevent future genocides and mass atrocities.
Q: Why is the Global Human Rights Big Idea an urgent issue today?
A: Human rights are one of the most pressing issues of our time. The genocide and mass atrocity pillar of this Big Idea focuses on studying the history of past genocide and mass atrocity to prevent similar crimes against humanity from happening again. UC Davis students are extremely passionate about wanting to solve the human rights problems that plague our societies: rampant racism, the trafficking of women and children, the refugee crisis and the violations of the rights of indigenous peoples, among many other crises. It's clear to them that we are living in a world in which xenophobia is on the rise and where human rights are threatened all around us. For that reason, they are hungry to learn history so that they can play an active role in making our world a better and more just place.
We often don't stop and think about how the consequences of genocide and mass atrocities last for generations after they occur. I study South America's dictatorships and civil conflicts, and I take students to Chile every year to study how that country's revolution, dictatorship and return to democracy played out. Almost a half century after General Pinochet's 1973 coup, the effects of dictatorship are still palpable in Chile. When they go there, my students discover that young people like them who didn't live through the events directly are still grappling with the results, because their families were left divided in the aftermath of the regime and because Chilean society was transformed in many ways by 17 years of dictatorship.
Q: Why is it necessary to study the topic of genocide and mass atrocity?
A: Many of us have heard the phrase, "Those who don't learn history are destined to repeat it." I completely agree with that statement. One of the things that I've realized while studying certain scenarios of atrocity is that you start to recognize patterns that exist throughout history –– and they do repeat themselves. We'd like to think that dictators, despots and war mongering figures throughout history are anomalies, but I think one of the things that we learn across the board is that there are people who have a lot of hatred within them for reasons that are historically deep-seeded or for very personal reasons. You have to study every situation individually, but there are indeed patterns that repeat throughout history. We must study this topic to recognize those patterns. When we do that, we understand that mass atrocities are not just a thing of the past, but that there are terrible violations of human rights happening in the here and now.
Q: How UC Davis is uniquely poised to help advocate for human rights for all?
A: UC Davis is, of course, one of the top public universities in the country. We are a comprehensive university; we have law, medicine, agriculture and environmental sciences and very strong programs in the humanities and social sciences as well. We have all of these things happening in one place and have colleagues working on human rights issues across many colleges, schools and units. All of this collective wisdom and expertise is what makes UC Davis really the perfect place for an Institute for Global Human Rights. We want to build this Big Idea to create opportunities for the next generation of students to solve the problems that are facing our societies today –– both locally here in California and around the world.
Q: How can donors help the Global Human Rights Big Idea change the world?
A: None of this can happen without donor support. I have students who come to my office who are extremely passionate about human rights. They want to go out and get hands-on experience; they want to do internships but don't have the resources. A lot of them are struggling just to put themselves through school. I would love it if we had resources available to help connect those students to the many great experiences and opportunities that are out there.
I think where donors can make the most impact is to help generate opportunities for students, either by endowing professorships or donating funds for students to do internships with important domestic and international human rights organizations. We have many faculty working on a wide array of human rights topics at UC Davis, but there are underrepresented areas that hold promise for future growth. For example, we'd love to create a program in transitional justice studies so we can study more deeply how justice is pursued in the aftermath of atrocity. We'd also love to fund a summer school that could serve as a resource to train California's history teachers in the latest research on genocide and mass atrocity.
Through this Big Idea, I believe we can empower students and educators by equipping them with the tools to understand the past, put them in contact with some of the world's most important practitioners who are out there working directly with communities of survivors and help engage the future leaders of the human rights movement.
Learn more about the Global Human Rights Big Idea
"Museum of Memory and Human Rights, Santiago, Chile" by Carlos Teixidor Cadenas is licensed under CC BY-SA 4.0
Primary Category
Tags