By Trevor Stewart
To measure the health of a body, clinicians have established methods to calculate waist size, body mass index, cholesterol and blood sugar, among other data points that determine physical health. But research about how to measure healthy brain aging is still evolving – and UC Davis is leading the charge, focusing on brain health throughout an individual's lifespan. 
As champions of UC Davis' Healthy Brain Aging Big Idea, Charles DeCarli, neurologist and director of the Alzheimer's Disease Center, and Kimberley McAllister, director of the Center for Neuroscience and professor in the neurology and neurobiology, physiology and behavior departments, are taking an interdisciplinary approach to rethink how brain health is defined. They are partnering with many other collaborators across UC Davis to take on this monumental challenge.   
A global leader in brain-related research, clinical care and education, UC Davis brings tremendous breadth and depth of scholarly expertise to this endeavor.
Thinking differently about how we think
According to DeCarli, an individual's brain cognition begins to decline in their 20s. Every individual has their own rate of cognitive aging; if the cognitive aging process is accelerated, it could lead to dementia later on in life.
DeCarli and other UC Davis faculty and staff are attempting to unlock the mystery of why cognitive aging affects people differently, especially in those who are free of mental health issues or brain disease. McAllister explains that research has long focused on the contrast between a brain afflicted with Alzheimer's disease and a normal brain. But one of the questions UC Davis researches hope to answer is, "What does normal healthy brain aging actually look like?"
 "When we look at the brain of two 97-year-olds, one might resemble a brain of a 30-year-old, and the other brain may look like an average 97-year-old brain," DeCarli explained. "Why is that? It could be genetic, caused by traumatic experiences or even a result of someone's diet. That question of why is the crux of this research."
Healthy body, healthy brain
Scientific evidence suggests that our brains are influenced by a host of processes, some of which begin in early life. In addition, some people have more resilience or cognitive reserve in the face of the aging process.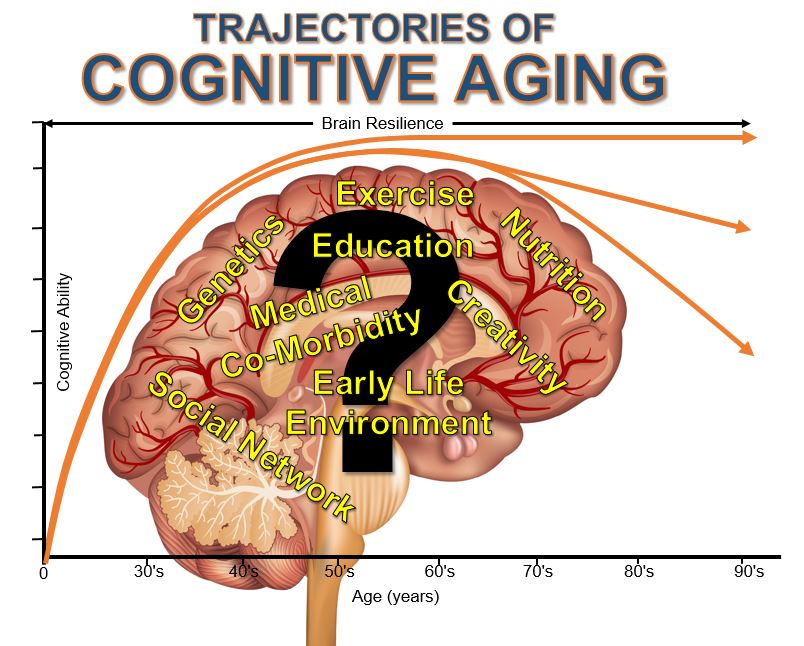 Existing research has shown a few simple ways to promote healthy brain aging. The list includes eating a healthy diet, refraining from smoking and managing blood pressure and cholesterol levels. Recent research also discovered vitamin D can be vital to promote brain health.
"If you have low levels of vitamin D there is an association with more rapid cognitive decline, especially in older patients," DeCarli said. "In fact, it was found that many people in the greater Sacramento area suffer from low levels of vitamin D."
McAllister explained that research has also shown physical exercise can enhance the growth of new brain cells in adulthood, leading to better memory. Exercising regularly not only has a positive effect on your physical health but also your mental health. 
Better brains for the future
This initiative will also focus on accelerating targeted interventions for diverse populations to create even more significant health benefits at a societal level. Moving forward, this Big Idea will promote a new kind of team science –– while training the next generation of team science leaders –– in order to make the discoveries that will improve the lives of the aging population and change the future for the next generation. 
DeCarli and McAllister know this transformative initiative is ripe with opportunity, but it will also present many challenges. They expressed confidence that the interdisciplinary nature of UC Davis will be key to a breakthrough.
"This idea is innovative and will take tremendous creativity and energy," McAllister said. "However, I believe UC Davis is the ideal place for this monumental research, largely because we have a uniquely collaborative environment that includes world-renowned experts in health, the environment, basic sciences and more."
DeCarli said the emphasis on healthy brain aging and brain health is long overdue, citing that the average person is often worried about getting cancer, but many people underestimate the importance of brain health, until they are afflicted with disease or brain trauma.
"We hope to inspire a paradigm shift in how people view brain health, focusing on brain fitness just like we focus on overall body fitness," he said. "We want brain health to be a priority for everyone."
This is one of several Big Ideas, forward-thinking, interdisciplinary programs and projects that will build upon the strengths of UC Davis to positively impact the world for generations to come.
Category
Tags