'We need precision medicine to make the next great leap in care'
Originally published in UC Davis Health Magazine Winter 2019
The regional burn center at UC Davis Medical Center routinely treats victims of car accidents, industrial accidents and other mishaps occurring in the external world around us. But the center's experts have also cared for patients who have received burn-like injuries to their skin from a purely internal phenomenon — the side effects of prescriptions.
Drug-induced Stevens-Johnson syndrome, or toxic epidermal necrolysis, is a rare but life-threatening intolerance reaction most often caused by reactions to medicines. And Christopher Wang, C.R.A., manager of UC Davis' Center for Precision Medicine and Data Sciences, could have been one of the victims.
After Wang developed kidney stones, he became a candidate to take allopurinol, a prescription xanthine oxidase inhibitor medication commonly prescribed to help. But thanks to elements of the burgeoning field of precision medicine — in this case, pharmacogenomics, predictive analytics, and enhancements in data-sharing — we now know that specific ethnic genetic backgrounds are associated with the risk of the syndrome, especially in Asians.
Wang researched the drug and discovered up to a quarter of people of Asian descent who take it can develop the toxic syndrome. They have a specific genetic mutation — their combination of genetic makeup that alters response to the environment (in this case, a common medication) — that makes them react differently than other patients.
"I had to be very careful about taking those medicines — because of my racial background, I can get this problem," Wang said. "If it wasn't for big data, they wouldn't have found this predictable side effect. That's how the knowledge network can be used for big health."

What is precision medicine?
Learn more about the personalized, proactive, predictive and precise medicine.
It's the kind of insight that UC Davis is now working to create and pollinate — for the benefit of patients in our region and beyond — through a formal university initiative. The Center for Precision Medicine is a long-term research project that's one of several formal Big Ideas at UC Davis — a series of forward-thinking, interdisciplinary projects or programs designed to positively impact the world for generations to come.
The initiative centers on the university's growing influence and research portfolio in the field of precision medicine, also known widely as "personalized medicine." This relatively new approach to care utilizes the most powerful technologies and disciplines — diverse data sources ranging from geographic variation of health and environment to genomics, enhanced by "Big Data" capabilities such as artificial intelligence and machine learning — to research increasingly precise treatments for individuals and communities based on a more robust understanding of gene-environment interaction.
The goal is to allow clinicians and researchers to predict more accurately the selection of treatment and prevention strategies for a particular disease or injury that will provide the best outcomes for specific groups of people or individuals. Besides the direct benefit to the patient, delivering the optimal treatment the first time could also positively impact health care efficiency and costs in a larger social sense.
"We've always been doing this kind of work in medicine, but we have better tools now, and it gives us a new lens we can use to see health and clinical care differently — and more clearly," said Fred Meyers, M.D., M.A.C.P., a hematology-oncology professor and former UC Davis internal medicine chair who directs the UC Davis Center for Precision Medicine and Data Sciences, and its supporting Big Idea. "It isn't going to be perfect, but ultimately no one wants to be the average patient either.
"It's OK to be the average patient until you have a bad side effect, and then you ask 'Why didn't we know that was going to happen?,' " he said. "You don't want to be the average person — you want them to treat you, and your unique makeup and situation."
Involved from square one
The National Cancer Institute (NCI)-designated UC Davis Comprehensive Cancer Center has already employed and researched precision medicine strategies for the better part of a decade. For example, UC Davis oncologists can use a leading-edge battery of molecular tests to determine whether a cancer will respond to drugs designed to target particular genetic mutations, and identify which chemotherapies will be more effective. The center is currently one of California's only to be awarded NCI's LAPS grant, making it a lead academic participating site for clinical trials across four major networks. Patients at LAPS sites have access to an array of clinical studies — including MATCH, a precision medicine trial in which patients receive treatment based on the genetic changes found in their tumors. It also includes Lung MAP, another precision medicine trial for advanced non-small cell lung cancer that's grown after treatment.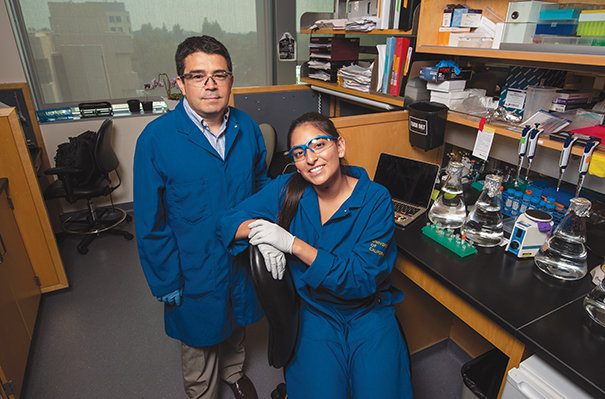 Outside of the cancer realm, clinical and biochemical geneticists in UC Davis Health's Division of Genomic Medicine also offer precision
and general genomic medicine services. For hard-to-diagnose patients and others with certain symptom sets, identifying disease causing genes can help to create new treatment and management options.
"You will get the most sophisticated approach here," Meyers said. "You'll get the right test, at the right time, for the right patient. Our colleagues are leading us into precision diagnostics."
These activities represent the "ground zero" of precision medicine, Meyers said. Taking the overall field to the next level requires not only advances in its various individual disciplines, but also — crucially — seamless cooperation to help envision, design, conduct and disseminate research.
"No one can do precision medicine by themselves — it's all about teams," Meyers said. "No one has the sufficient knowledge alone, so you have collaborations between genomics, informatics and biostatistics… It's everyone in the pool, trying to look at the same thing in a different way. And when you look at things differently, you get new ideas."
State and federal leadership
UC Davis' longtime, formal emphasis on interdisciplinary collaboration makes the university well-positioned to play the convener role, Meyers said. The university's nationally prominent animal and human research centers, diverse patient population, and proximity to the state Capitol also provide unique benefits.
With the advent of the U.S. Precision Medicine Initiative in 2016, Meyers — who has served as vice dean of the UC Davis School of Medicine, founded one of the nation's first palliative care centers, and helped UC Davis achieve NCI designation — was asked to lead and integrate precision medicine across the university. The Center for Precision Medicine he directs acts as an internal consultancy, directly convening research teams while also helping to connect and support other efforts.
UC Davis is now helping to inform precision medicine leadership at both the state and national levels. Meyers was appointed to Jerry Brown's Governor's Advisory Committee on Precision Medicine in 2017, and UC Davis Health is a partner in the California Initiative to Advance Precision Medicine (CIAPM) board, where Meyers wrote the education chapter for the governor's precision medicine action plan.
As a charter member of the California Precision Medicine Consortium, last year UC Davis Health also became one of five California health systems to collaborate to implement the All of Us Research Program, a 10-year, $1.4 billion landmark study that's a major component of the federal Precision Medicine Initiative. Led by the National Institutes of Health (NIH), the study is an unprecedented effort to gather genetic, biological, environmental, health and lifestyle data from 1 million U.S. volunteers. Alexander Borowsky, M.D., an associate professor of pathology and laboratory medicine, heads UC Davis participation with Katherine Kim, Ph.D., M.P.H., M.B.A., an assistant professor at the Betty Irene Moore School of Nursing at UC Davis.
"You can't get precision medicine without data from a diverse population, and All Of Us develops that diversity information that's needed to help reduce health disparities," said Jennifer Sanchez, the precision medicine center's program coordinator.
This spring, Meyers was named president of the Association for Clinical and Translational Science, a 5,000-member career-development association for translational scientists. UC Davis hosts one of the nation's inaugural national Clinical and Translational Science Centers, with Meyers serving as director of research education and training.
Clinical and structural efforts
A variety of UC Davis Health research teams are currently working on precision medicine-embedded translational or clinical studies, aimed at creating new insights that directly inform or improve care. Subject and specialty areas range from common military combat injuries such as traumatic brain injury and burns, to Jordan's syndrome, a rare pediatric condition that causes neurodevelopmental disorders.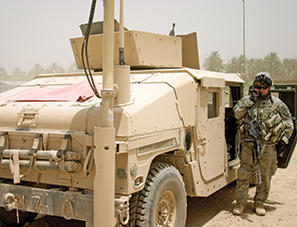 Bringing precision medicine home to the patient
Researchers are using precision medicine to create treatment approaches for use in patients. 
Meanwhile, other UC Davis teams are enhancing the foundations of precision medicine through studies and projects meant to strengthen both local and national capabilities in genomics, data gathering, data analytics and workforce preparation.
"When I started my own career in hematology-oncology, it was difficult to provide high quality cancer care — the cure rate was less than 50%," Meyers said. "Now the rate is up to 75% — but the truth is that we want to prevent cancer in the first place. We need precision medicine to make the next great leap in care."
Primary Category
Tags