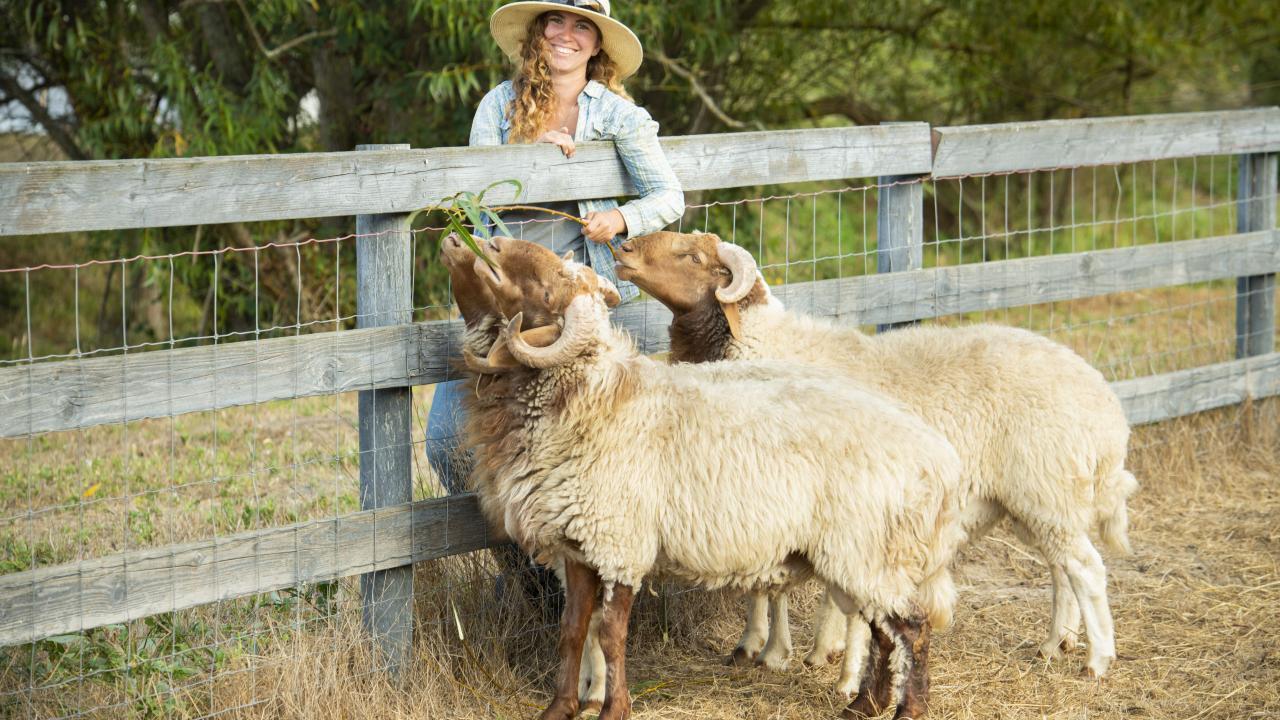 By Rob Warren / Originally published on School of Veterinary Medicine
A small-scale sheep farm in California is the first in the Western United States to have the Awassi breed in its herd. Thanks to help from livestock veterinarians with the UC Davis veterinary hospital, Duckworth Family Farms had eight of the sheep—four males and four females—born via embryo transfer. The farm plans to use the sheep for dairy and fiber production, as well as semen and offspring sales.
Awassi sheep are indigenous to southwest Asia and were introduced to other parts of the world nearly 30 years ago. In 1991, they were introduced to New Zealand via embryo transfer and subsequently to Australia. They first appeared in the U.S. in the Midwest in 2012 via embryo transfer as well, due to the U.S.'s ban on imported livestock since the Mad Cow outbreak in the 1990s. Awassi are now the third type of dairy sheep in the U.S., after the German East Friesian breed and the French Lacaune breed. They can be utilized for three purposes – meat, wool and (primarily) dairy.
Being native to the deserts of Asia, the Awassi sheep can tolerate extreme conditions. They are able to walk long distances which make them ideal for large grazing areas. When dry seasons do not allow for many nutrient-rich grazing opportunities, the Awassi can survive by utilizing stored fat in their large tails. These traits make them an ideal sheep species for the arid climate of California.
"The Awassi are a hardier breed," said owner Snazzy Duckworth. "They can survive well as a pasture-based sheep that doesn't need to be in a feedlot-style system."
Duckworth Family Farms only has about 50 head of sheep in its herd – mostly East Friesians and a handful of Shetlands and Corriedales. Duckworth describes the Awassi as much easier to maintain than East Friesians. She also likes the unique orange and brown coloring of their wool when they are young.
"We're already sold out of the fleece products we'll create from their wool," Duckworth said.
Duckworth worked with the Livestock Herd Health & Reproduction Service at UC Davis to have the embryos implanted in recipient females. The embryos were collected from Awassi ewes in Australia, frozen in liquid nitrogen, and imported into the U.S. Dr. Bret McNabb, chief of the service, discussed all potential scenarios with Duckworth regarding embryo transfer, including a clear discussion about a potentially low percentage of embryo transfers that will result in live births.
Duckworth understood the risks and trusted Dr. McNabb's expertise in the procedure and his previous experience in beating the odds to produce more live births than the accepted average.
This type of trusted dialogue—be it between clinician and owner, or between care team members—helps create an open, constructive and respectful exchange of ideas among everyone involved in a patient's care.
Dr. McNabb and a team of residents and students then performed laparoscopic-assisted embryo transfers—a minimally invasive method—to implant 16 embryos into Duckworth's herd. With eight births resulting, the 50 percent success rate is about average for frozen livestock embryo transfers.  
Once the males are mature, Duckworth plans to work with UC Davis again to collect semen from the rams, making them the only sheep breeder in the U.S. with Awassi semen for sale. The farm also plans to sell offspring once the Awassi herd grows in size. To achieve this, they will utilize UC Davis to perform another round of embryo transfers in the near future.
Dr. McNabb and his team will see upgrades and modifications to facilities and equipment in the near future, as the proposed Livestock and Field Service Center (LFSC) will provide improved student and clinician safety and continue to provide patients with outstanding veterinary care on par with that provided to Duckworth's sheep.
The LFSC will be one of the first patient care areas to be completed in the new Veterinary Medical Center. The new livestock facility has been designed in consultation with Temple Grandin, Ph.D., well known for her groundbreaking work in engineering humane animal facilities and is a fellow in the Society of Biological and Agricultural Engineers. Emphasizing modern concepts in animal welfare, Dr. Grandin partnered with UC Davis to create the best possible environment for livestock handling, care and clinical teaching.
Category
Tags