Global education for all UC Davis students builds on the university's growing international experiences and rich regional diversity to provide vital intercultural competence and preparation for global leadership.
Building global leadership opportunities and connections
It's 2027. Elena '22 is modeling ozone pollution impact on California and international rice production, working with a Chinese engineer she met in a virtual seminar. Ananya '23 just launched a textiles micro-enterprise in India, using ideas developed through campus connections with Peruvian entrepreneurs. Malcolm '24 heads a federal poverty relief effort, a passion sparked through late-night conversations with sophomore suitemates and pursued through work with Sacramento immigrant communities and studies in Geneva. These leaders all met mentors and future colleagues while at UC Davis, where they were immersed in a culturally diverse environment rich with experiences preparing them to live, lead and collaborate in a globalized world. And each student receiving a global education continues to benefit from and contribute to a growing global alumni network.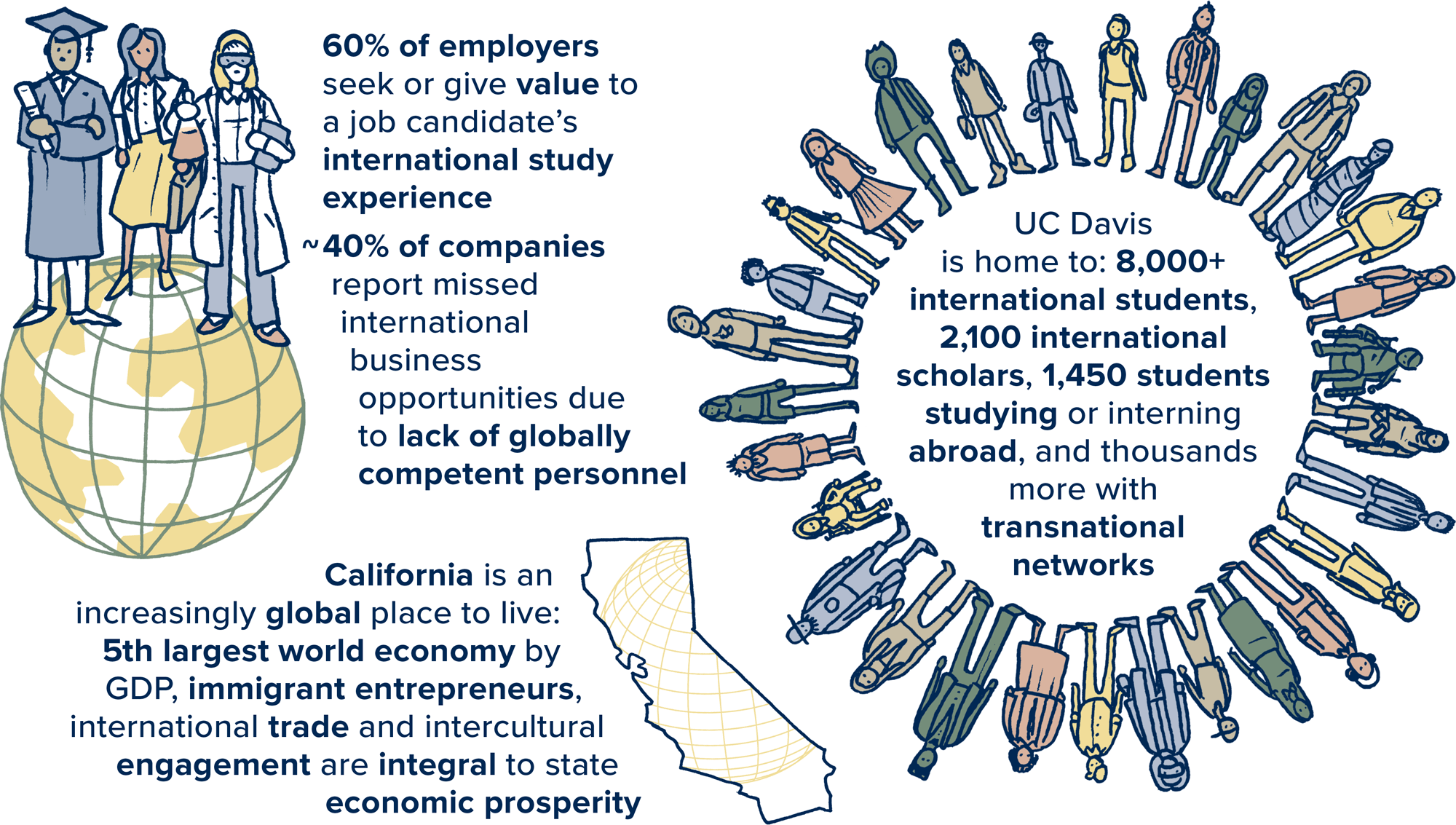 Education enriched by global learning experiences
UC Davis has a vision to provide a global education for all students, preparing them for an interconnected and interdependent world. We will forge multiple pathways to ensure all students are enriched by global learning opportunities and engagement. Both abroad and at home, this includes living/learning communities that build lifelong connections among culturally diverse international and domestic students and service learning and research opportunities that bring a globalized curriculum to life through hands-on engagement with world challenges.
Build the next generation of global leaders
UC Davis is looking to partner with donors, corporations and foundations to accomplish the following:
Create a hub for campus global learning activity
Foster global living/learning on campus with enhanced thematic international residential living
Engage students in global research by creating Global Engagement Endowed Chairs and student success funds
Expand access to global learning with virtual classrooms, internships, study abroad and at home scholarships, and service learning opportunities, including social impact fellowships
UC Davis is educating the next generation of global problem-solvers. Invest in the future by ensuring a global education that helps every student live, lead and thrive in an interconnected world.