Extending Care to Families Affected by Autism
A new initiative led by the UC Davis Health MIND Institute aims to make evidence-based interventions more widely available for the millions living with autism spectrum disorder – including the half-million U.S. adolescents poised to plunge off a 'services cliff,' and the adults who are already at the bottom.
One in 59 children nationwide is currently diagnosed with autism spectrum disorder or ASD, almost triple the number at the turn of the millennium. Yet many of today's more effective evidence-based treatments aren't yet widely available to families who need them.
Meanwhile, over the next decade about half a million teens on the spectrum will transition into adulthood – where a sudden drop in institutional support, widely known as the "services cliff," presents another glaring social problem.
That's because most school-based educational interventions cease at age 21 or 22, and many adults may not qualify for further assistance. But autism remains a lifelong condition, and statistics show that many adults with it will be unable to find meaningful employment, live independently or form lasting friendships. Many will entertain thoughts of suicide.
Overall, the economic cost of caring for Americans with autism – some $268 billion in 2015 – will rise to $461 billion by 2025 without more-effective interventions and lifespan support, according to the nonprofit Autism Speaks.
"Everyone knows someone affected by autism, and it's time for us as a society to take responsibility for the growing number of families in need of quality care," said Leonard Abbeduto, Ph.D., director of the UC Davis Health MIND Institute and Tsakopoulos-Vismara Endowed Chair in the UC Davis School of Medicine's Department of Psychiatry and Behavioral Sciences.
Taking a lifespan approach
With those challenges in mind, Abbeduto and other leaders at the MIND Institute – known as one of the world's leading neurodevelopmental research, clinical, educational centers – are launching a new effort to pioneer a first-of-its-kind lifespan approach to autism.
The goal is to assist individuals and families with ASD across age groups, geography and socioeconomic factors. The long-term project is one of several formal "Big Idea" initiatives at UC Davis — a series of forward-thinking, interdisciplinary programs prioritized because of their potential to transform the world for generations to come.
In the case of neurodevelopmental disorders, the Autism, Community and Technology Big Idea aims to create widespread change by uniting two distinct, yet overlapping areas of growth. The first thrust aims to develop and scale up evidence-based interventions – making them available to more people through innovation in affordable support technologies, widened community partnerships, and enhanced training for health providers, families, teachers, employers and families.
The second thrust will develop new ways of helping adults with ASD to gain meaningful inclusion in the community. Helping them to participate in the educational, employment, and social experiences of adulthood will require better understanding of their needs, MIND Institute experts say, and tailored support delivered in new and expansive ways.
Making evidence-based approaches accessible
The initiative is designed to build on existing research and clinical care at the MIND Institute – which recently celebrated its 20th anniversary – and to leverage UC Davis' unique strengths in neuroscience, engineering, education and social sciences. UC Davis Health runs one of the nation's largest telehealth services, for example.
The MIND Institute itself directly serves more than 6,000 patients per year for diagnosis, treatment and education around autism, fragile X syndrome, ADHD, and other neurodevelopmental disorders. It's also known internationally for research on causes and innovative treatments. In 2017, it ranked first in the nation for autism research funding from the National Institutes of Health, and last year three faculty members appeared in a global list of researchers in the top 1 percent by citations in their fields.
An ongoing clinical study is already evaluating the effectiveness of ESDM video training for parents of children with ASD, and the Big Idea aims to expand similar efforts to bring therapies to families – inexpensively and equitably – through apps, virtual reality, or even smart homes.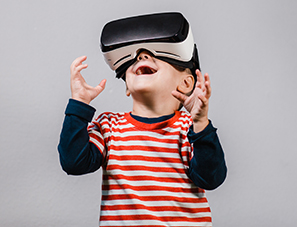 Leveraging technology to help more families with autism
MIND Institute researchers are studying how emerging technologies can bring evidence-based therapies for autism "to scale."
Read how that technology is helping research efforts even more. >

"For example, families in rural areas may not be able to see experts without traveling long distances. That creates a financial burden – or a practical one, for children with challenging behaviors – and can delay treatment," Abbeduto said. "We're working to create technologies that will take MIND Institute expertise and extend its reach to impact families everywhere."
Embracing a forgotten population
As a means of proactively reducing future suffering, many autism studies and interventions understandably target infants, children and adolescents. About 1 percent of autism research funding is currently focused on adulthood and aging, according to a 2017 report from the Interagency Autism Coordinating Committee. But at the same time, adults with ASD face a multitude of challenges around factors like social communication, behavior, ASD-related physical health conditions.
Abbeduto and colleagues such as MIND Institute researchers Marjorie Solomon and Robin Hansenalready have efforts underway to help – for instance, a 20-week intervention focused on preparing for independence, and a large new NIH study on successful transitions from high school (itself made possible with charitable seed funding from a committed family). The Big Idea aims to support more such activity.
"There is a tremendous need nationally for research about how to best support adults with neurodevelopmental disorders and their families – to improve their quality of life and their independence," Abbeduto said. "We want to be leaders in this area, and agents of change."
Help improve quality of life for individuals living with autism and their families
To advance the Autism, Community and Technology initiative, UC Davis seeks to partner with donors, corporations and foundations to:
Create an innovation hub for new technology development, clinical care and research
Support partnership grants that foster participation of self-advocates, family members and diverse community providers
Establish an endowed chair and several endowed faculty positions to recruit thought leaders
To learn more, please contact Elizabeth McBride, senior director of development, at ekmcbride@ucdavis.edu or 916-703-0221.
Primary Category
Tags