Autism Diagnosis Doesn't Stop Abby Lone Bear from Dancing
Originally published on UC Davis Health
Abby Lone Bear started dancing in pow wows as a toddler. She remembers the coins that onlookers tossed on the blankets as she danced among family and fellow tribe members.
Now, at 9, she continues tribal dancing, but also does Scottish Highland dancing with the Tartan Hearts in Sacramento. Her favorite, however, is ballet. She will perform as an angel in the Nutcracker with the Placer Theater Ballet in Roseville over the holidays.
Abby was diagnosed with autism at age four at the UC Davis MIND Institute. But her disabilities, including speech and language delays, anxiety, gross motor delays and sensory processing problems, seem to melt away when she is dancing. Her mother Wendy Lone Bear, who grew up doing tribal dancing, makes sure Abby gets every opportunity to perform.
"While our culture is accepting of all children, autism is not often talked about," she said. "We wanted to make sure other native parents and kids could see that they can do whatever they want. And we want them to know that those things can be achieved through traditional resources or by adapting programs like dance to fill the gaps."
Abby brings autism awareness to tribal communities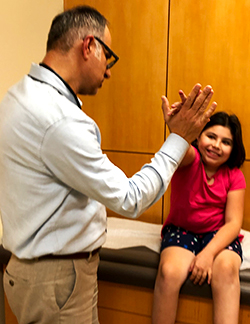 Enrolled as a member of the Three Affiliated Tribes, Abby is Hidatsa and Mandan. She belongs to the Waterbuster clan of her mother and the Prairie Chicken clan of her father. As a clan member she can call upon her clan aunts and uncles for help when needed. That's how she acquired a laptop with an application that jump-started her language development, which had been severely delayed.
Abby is believed to be the first girl with autism to be named the Oroville Pow Wow Junior Princess in 2017. By selling tickets to events and representing her tribe at pow wows around the U.S., she also helped others in tribal communities learn about autism. Abby even memorized a little speech, which she recited in her native language, Hidatsa.
"Hello. Welcome. My name is Morning Star. I am Hidatsa, and I am a member of the Prairie Chicken Clan," Abby said to people.
"Now, she's moving and talking and has her own voice," her mother said. Over the summer, Abby was a given a new name to celebrate that voice: Night Spirit Woman.
Mary Jae Leigh, the developmental pediatrician who diagnosed Abby's autism, said she is pleased that Abby is so involved in dance and other programs.
"It's wonderful to see all children, including children with developmental disabilities, participate in culturally important activities," said Leigh. "Community engagement can be so beneficial to families, and it benefits the community, too, by fostering awareness and promoting discussion of ways to support children with developmental disabilities."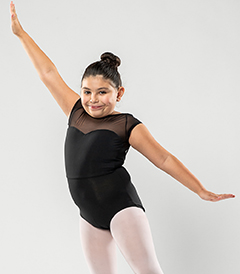 Abby joins a research study to target ongoing anxiety
Abby still faces challenges, especially with anxiety. She has joined the MIND Institute's STAAR study, which is looking at the role of anxiety in children with autism and whether medication or other types of therapies are most effective.
In addition to attending Cyril Spinelli Elementary School in Antelope, Abby will be modeling Nov. 3 in Folsom's Runway 19, an event designed for young people with special needs. She is also rehearsing for her upcoming holiday performances.
"There are so many things these kids can do," said Wendy Lone Bear. "Ballet gives them a sense of ritual and confidence. They are not dancing against other dancers. They are trying to do their best. So many people think they can't, and they can."
Primary Category
Tags