Precision Agriculture: Genetic Research Aids in Food Production
Farmers, consumers and the environment see benefits 
Article Summary 
Vivian Vuong's phenotyping system will make plant data collection more efficient 

Phenotyping is the process of observing and classifying physical characteristics and relating it to plants' genetic material

Widespread use of phenotyping machines can improve quality of crops, food access and the environment
By Ashley Han
Vivian Vuong's '17, Ph.D. '21, drive to study agricultural engineering stemmed from her undergraduate research with Biological and Agricultural Engineering Professor and Smart Farm Big Idea Champion David Slaughter. Today she's working on gathering genetic data on plants to increase yield in the field – a method that can improve food access and the environment.
For her graduate research, Vuong is developing a high-throughput in-field phenotyping machine that will make plant data collection more precise. Phenotyping – the process of observing and classifying physical characteristics and relating it to plants' genetic material – can ultimately help experts grow fruits and vegetable more efficiently.
Her work is part of the Smart Farm Big Idea, UC Davis' endeavor to advance and spearhead a new era of agriculture, led by Slaughter. Vuong also credits her Smart Farm experience with empowering her to pursue a career in STEM.
"When I was an undergrad I would sit in a classroom that would be predominantly male because in engineering, that's unfortunately pretty common," Vuong said. "Doing hands-on research for Smart Farm made me realize how accessible engineering can be for people who never thought of joining the field." 
Currently, phenotyping methods for infield plant breeding trials are done manually. Vuong's research will help expedite the development of new crop cultivars from plant breeders as well as develop plants that require fewer resources like water and fertilizers to produce high quality, high yielding crops. 
"My research is looking to streamline the phenotyping methods so only one person needs to operate the system in the field a few times a week, collect images and sensor data that are relevant to the plants," Vuong said. 
Vuong's phenotyping system collects data and shows how plants like peppers and tomatoes perform under drought conditions. Plant breeders can then use this data to produce crops that require less water. 
"Researchers have crossbred the tomatoes with wild tomatoes that are found in the desert to make them drought resistant," Vuong said.
"Consumers will see the benefit of this by seeing lower costs and higher quality produce in grocery stores," she added. "Hopefully the lower cost will help reduce the food shortage in certain areas in the United States and make food more accessible."
Tunnel Vision During an Emergency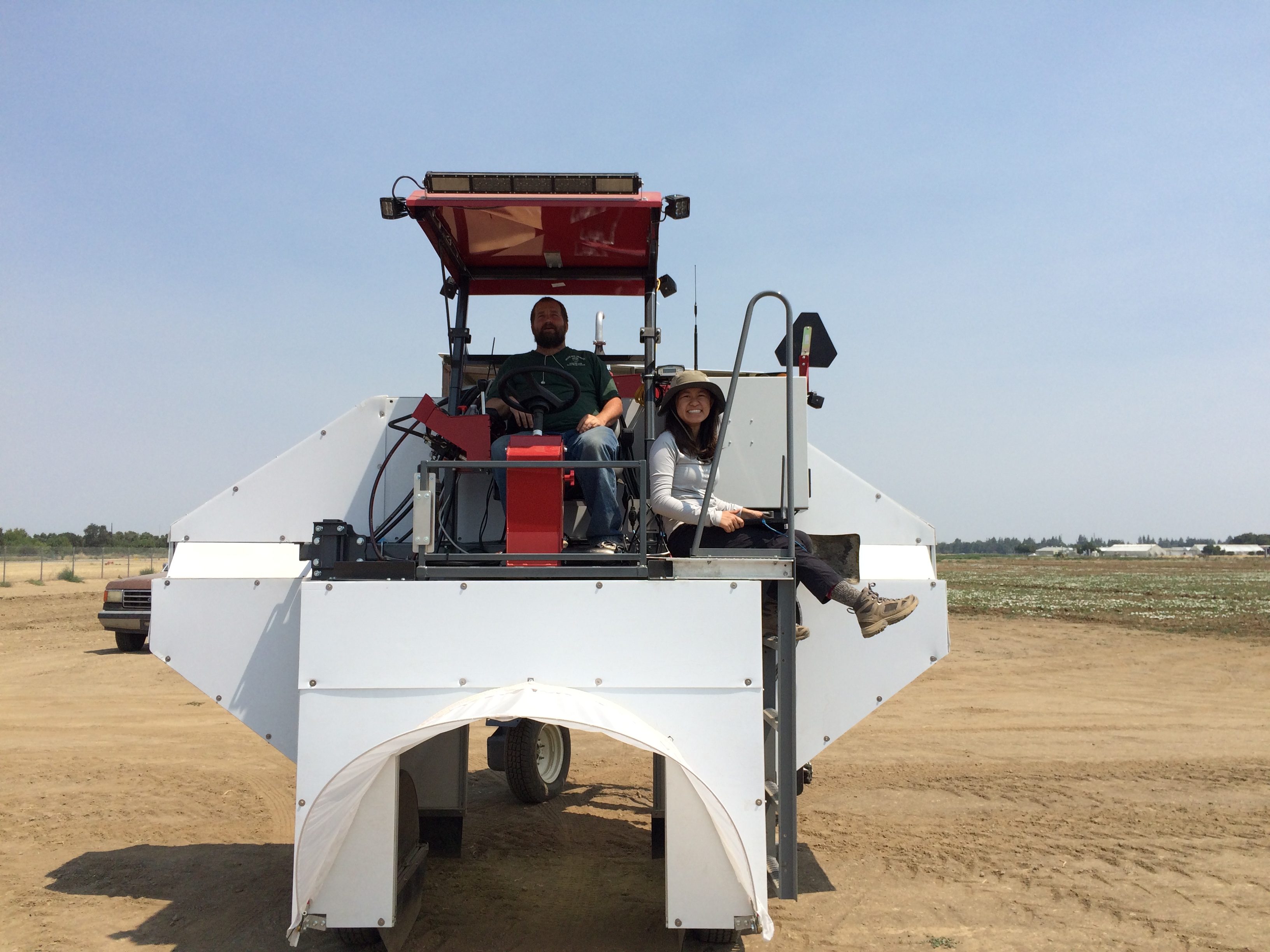 Rapid population growth and climate change impacts were some factors that drove Vuong and her work. But now she feels the pressure to improve agriculture more than ever before.
"There has always been a sense of urgency with my research because agriculture needs to catch up to feed this growing population," Vuong said. "COVID has highlighted the importance of agriculture even more because with things like climate change and the population growth, we're going to see more need for food."
One solution is to look closer and target treatments. Vuong's project with Smart Farm will develop technology that helps farmers operate on a day-to-day basis and make operations more effective. 
"Precision agriculture will allow farmers to treat plants individually, instead of by acre or block," Vuong said. "Farmers would be able to adjust the amount of water, fertilizer, or pesticides each plant needs instead of applying it to the general field."
Vuong's goal is to allow plant breeders at UC Davis to access the system and use the algorithms to phenotype their fields.
"UC Davis is the perfect place to be doing agricultural engineering research because we're able to take our systems from the lab to an agricultural field on the same day," Vuong said. "Smart Farm helped me see that there is technology that can help improve agriculture and the broader community." 
Primary Category
Tags