Sustainable Campus, Sustainable Cities Big Idea Provides a Model for California and the World
The Sustainable Campus, Sustainable Cities Big Idea is a testament to how UC Davis will continue to build upon its legacy of leading the way for universities and cities to make sustainable changes on a large scale. UC Davis has received worldwide recognition for leadership in this field. For example, UC Davis is ranked third in the world and first among U.S. universities in the 2018 UI GreenMetric World University Rankings, largely because of the many sustainable buildings on campus.
Kurt Kornbluth, Ph.D. '08, an assistant adjunct professor in the Department of Biological and Agricultural Engineering who leads this Big Idea, sees an opportunity to harness UC Davis' leadership in energy efficiency, zero-net-energy and climate neutrality to show the world UC Davis' replicable model for creating sustainable cities and campuses.
"Five years from today we will have made significant progress toward this model campus," Kornbluth said. "This initiative isn't just bringing carbon neutrality, but also the process of creating this model sustainable campus, and better quality of life, which we can share with the world."
UC Davis has 11 buildings in the Leadership in Energy and Environmental Design (LEED) top "platinum" category, five of which were made possible by the generous support of donors. LEED certification requires new buildings to exceed the energy savings required by California code by at least 20 percent.
LEED provides a point system to score green building design and construction. The system is categorized in five basic areas: Sustainable Sites, Water Efficiency, Energy and Atmosphere, Materials and Resources and Indoor Environmental Quality. Buildings are graded on a point scale based on their successful implementation of sustainable practices. The points are tallied and the building is awarded by tier––certified, silver, gold or platinum.
Donors are making a big difference in UC Davis' sustainability efforts. Read below for the full list of UC Davis' philanthropically-funded LEED platinum buildings, or see the full spectrum of UC Davis buildings funded by philanthropy via this interactive map.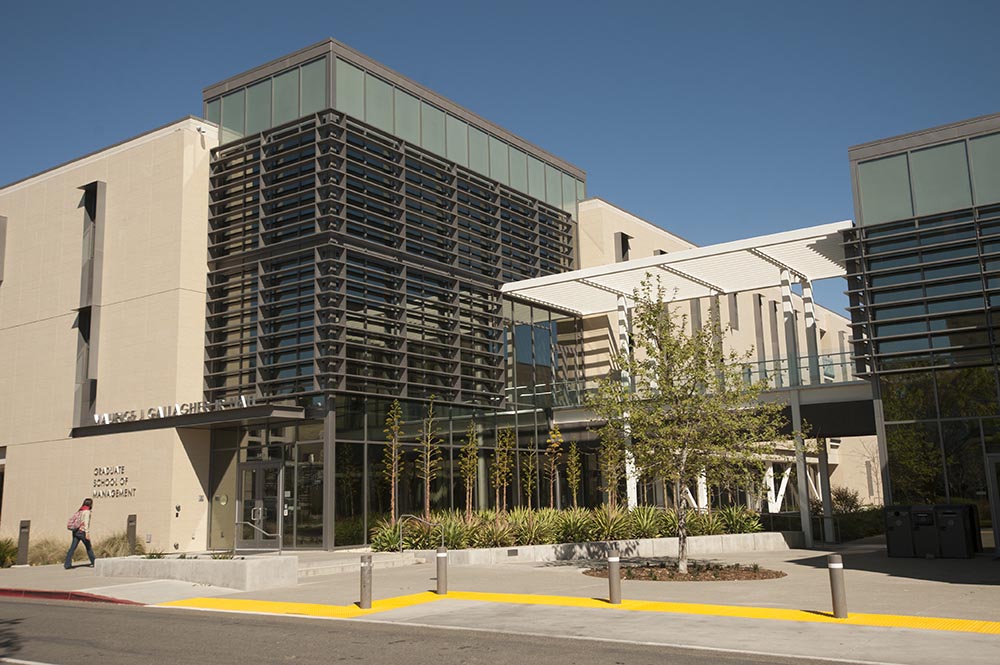 Gallagher Hall: Maurice J. Gallagher, Jr. Hall, occupied by the Graduate School of Management, and the adjacent Conference Center, is certified LEED Platinum. Gallagher Hall is the first business school building in California to earn LEED-Platinum certification for its eco-friendly construction. Maurice J. Gallagher Jr., a Las Vegas airline executive, contributed $10 million toward the project and an endowment for UC Davis' full-time MBA and MPAc programs. Gallagher and his wife Marcia's contribution is one of the largest alumni gifts in UC Davis history.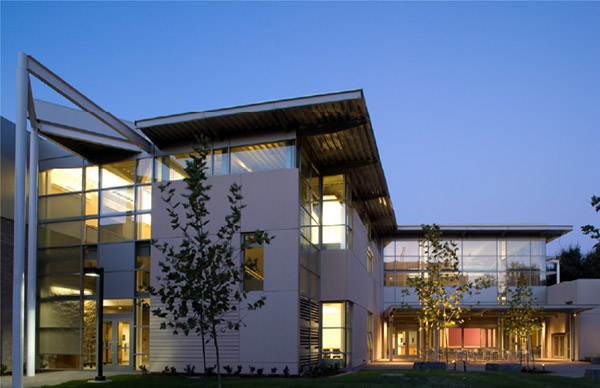 Gladys Valley Hall: Gladys Valley Hall, completed in 2006, is the heart of the educational program at the UC Davis School of Veterinary Medicine, providing lecture auditoriums, seminar rooms and class homerooms. The building honors Gladys Valley, longtime friend of the school, horse lover and co-founder of the Wayne and Gladys Valley Foundation. This building features energy-efficient lighting systems, featuring light dimmers and occupancy sensors, which turns off lights off when a room is not in use. Another sustainable aspect are the ceiling tiles, made from renewable wheat straw in the large auditoria. The building also used recycled content materials throughout the construction process, including steel, insulation, windows and concrete materials.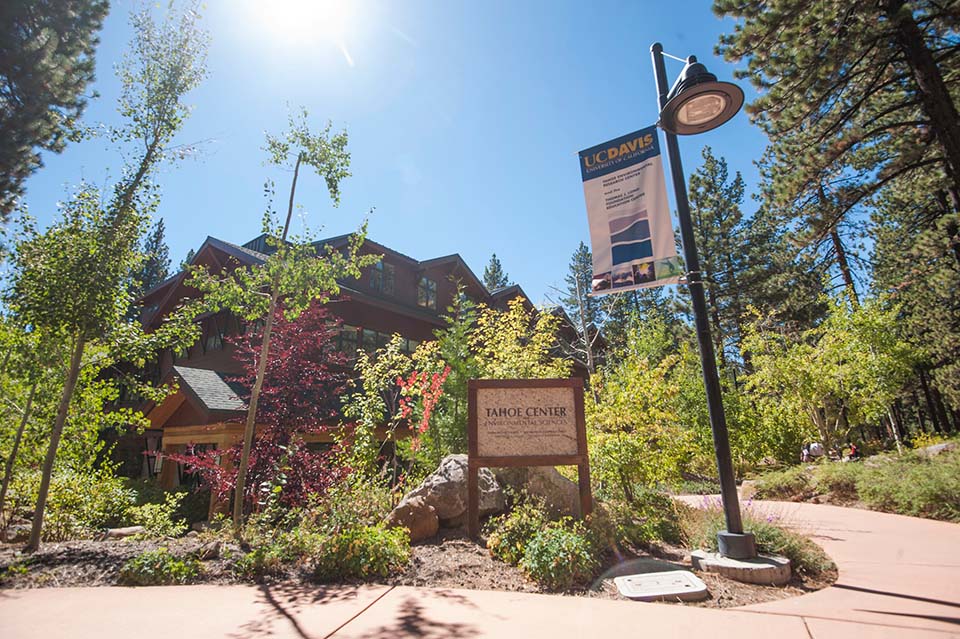 UC Davis Tahoe Environmental Research Center: TERC's platinum LEED lab facilities and Tahoe Science Center can be found in the Tahoe Center for Environmental Sciences building located on the Sierra Nevada College campus in Incline Village, Nevada. It has been noted as the first laboratory to use "active" chilled beams, which moves ventilation air through ceiling-mounted diffuser boxes for increased cooling efficiency at low investment costs. The building's energy efficiency is also boosted with radiant floor heating, a cooling tower and cold water storage. The building has 875 photovoltaic shingles on its roof. Photovoltaics is the conversion of light into electricity using semiconducting materials.
August A. Busch III Brewing and Food Science Laboratory & Teaching and Research Winery: This UC Davis facility is the first brewery, winery or food processing facility in the world to be LEED Platinum certified. The two-wing building houses teaching and research activities in the August A. Busch III Brewing and Food Science Laboratory and the Teaching and Research Winery. The facilities will serve as a model for sustainability in each industry, with a focus on water and energy efficiency in the building's design. This facility has a large-scale water capture system used for irrigation and toilets that saves about 300,000 gallons of water annually. Photovoltaic panels on the building's roof are estimated to produce more energy than the building uses. Real-time data from the facility's water and electrical metering is displayed in the lobby, to help showcase the building's sustainable features. A comprehensive recycling and composting plan was also designed for the facility, with help from UC Davis students.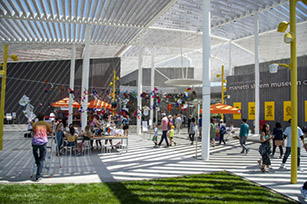 Manetti Shrem Museum: LEED Platinum November 13, 2016, marked the grand opening of the Jan Shrem and Maria Manetti Shrem Museum of Art – a hub of creative practice for today's thinkers, makers and innovators, now and for generations to come. In 2011, Jan Shrem and Maria Manetti Shrem made a $10 million gift to name the museum; the museum also received substantial funding from other generous donors. Some of the museum's sustainable features are a highly reflective roof, which reduces heat island effect, and storm water that is kept on site and filtered through vegetation. It is also equipped with site lighting, which is designed to minimize light pollution and energy use.
To learn more, visit Sustainable Campus, Sustainable Cities  on the Big Ideas website.
Primary Category
Tags