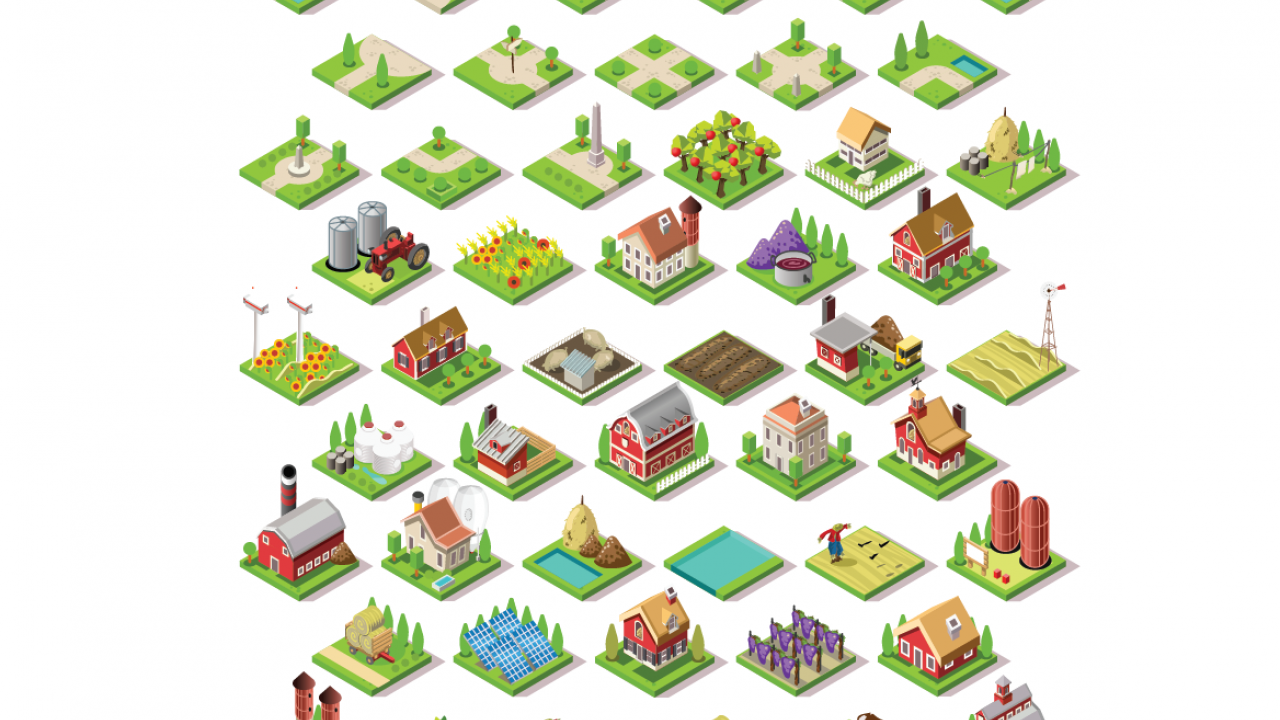 By Laura Pizzo 
The many intersections surrounding food and agriculture—from labor and the economy to health and the environment to globalization and even ethical considerations—result in several urgent issues arising at the same time.
Two billion people—nearly a third of the global population—are currently food insecure, a number that is expected to skyrocket as the worldwide population reaches nine billion in 2050. There are also significant labor shortages in agriculture, with farmers across the country, and particularly in California, reporting that they are struggling to find farmhands. Additionally, weather variability is projected to decrease the yields of California's crops by approximately 15 percent over the next four decades.
This is why UC Davis is taking cropping systems and animal agriculture to the next level of productivity, sustainability and responsible resource use by developing and utilizing robots, sensors and other new technologies for agriculture. By marrying research, extension and teaching across the agricultural, biological, environmental and engineering fields, UC Davis is helping to advance California's signature food products and create a leading model for transforming agricultural systems around the world.
"UC Davis' work to develop more precise, efficient and sustainable practices in agriculture is responding to a very urgent issue for California and the world," said Helene Dillard, dean of UC Davis' College of Agricultural and Environmental Sciences.
Addressing labor shortages
UC Davis Professor of Biological and Agricultural Engineering David Slaughter has been a pioneer at the intersection of technology, engineering and farming since his career's early beginnings when he developed one of the first robotic fruit-harvesting systems.
Recently, among other accomplishments, he developed a weed control robot that could significantly reduce the amount of laborers needed to weed a field. His robot, guided by GPS and armed with a map of the exact location of every crop seedling planted, selectively kills weeds in-between crop plants and in crops thick with weeds. Slaughter's device works 50 to 80 percent better than commercially available robots. This is possible because UC Davis engineers have taken a systems approach to solving some of agriculture's most challenging problems, building not one smart machine, but two. The first smart machine marks the longitude and latitude of the crop when planted, so the second robot—the weeding robot— knows exactly where the crop plants are located and, by default, knows that plants growing outside of those locations must be weeds.
"In a field where the weeds are very thick and you're spending $500 per acre for farmhands to weed it, you'd definitely want our machine," he said. "That's because the commercially available robots would get confused and be unable to tell the weeds from the crops, opting not to try at all. Our technology could kill 50 to 80 percent of the weeds, saving a farmer 50 to 80 percent of the labor for weeding."
Slaughter says this smart technology also saves the workers from drudgery by transferring repetitive work, such as hoeing under the hot sun, to the robot, replacing these jobs with better opportunities.
"These robots are doing menial, demanding and arduous tasks, and we are hoping that the replacement jobs will offer a higher quality of life," Slaughter said. "We are of course concerned that there will be fewer laborer positions, but we hope that these workers will be supervising robots in the future and will also be able to go to the grocery store and buy food at a lower cost than if we had no automation."
Increasing sustainability
Kaan Kurtural was born into the grape business. Both of his parents are raisin growers on the West Coast of Turkey. Now, he jokes that he is their competition. As the cooperative extension specialist in viticulture at UC Davis, he works on production systems for vineyards in California. His specialty is making certain that resources are used in accordance with the needs of an individual vineyard.
"For the last 200 years, vineyards have been managed uniformly, meaning for example that we would prune or water an entire vineyard the same," he said. "But there's a lot of variation in vineyards and so many ways that a property can affect how vineyards perform, including fruit quality and yields. So, in this example, we can now direct water where it's needed and not irrigate where it isn't needed. The same goes for fertilizers, etc."
Kurtural does this work by using UC Davis-developed technology that models and senses terrain and water status of the vineyard. For example, a field may have higher ground at one end than another, affecting sun exposure, water needs and more. Soil quality could also be different across a large vineyard. Kurtural helps farmers model, sense and transform this data into usable information.
At a field in Lodi, California, Kurtural's team found that certain parts of the vineyard were outperforming others in both yield and quality. By removing leaves in under performing areas, allowing for more sun exposure and instituting differential irrigation, they were able to help solve these issues and also conserve resources.
"Not only do we develop this technology, but we also train the growers' crews to use it," he said.
Kurtural is motivated to build upon UC Davis' strong relationships with California growers—and not just in the grape industry. He says these practices can translate to other crops as well, benefiting agriculture all over California and across the globe.
"We can do the research, but unless we extend it to the growers, it's not meaningful," he said. "So the work in the lab and the work in the field are both important to UC Davis and the growers alike. Whatever I do, I am charged with extending this knowledge."
Collaborating across disciplines
Assistant Professor Maja Makagon from UC Davis' department of animal science uses sensors to monitor the health, welfare and production of poultry animals, especially at the individual level.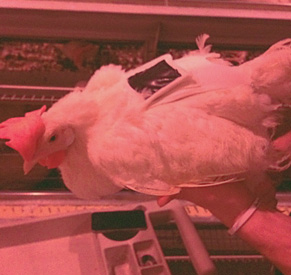 "Without sensors, it is extremely difficult to detect when an individual hen has a problem, making preventative medicine very difficult if the infected or injured hen is in a flock of 3,000 to 6,000 birds," Makagon said.
Makagon's research in part focuses on trying to understand why and how hens sustain damage to the keel bone, an extension of the bird's breastbone. Keel bone damage can affect 30 to 90 percent of a flock, depending on the age and housings of the birds. Ultimately, Makagon's research could improve animal welfare by reducing painful injuries and could also increase productivity and hen and egg weight.
To conduct this research, Makagon tracks laying hens throughout a year. By monitoring the hens with CT scans, sensors and video, she can assess what in their environment is causing them to sustain keel bone damage—knowledge that could potentially help farmers alter or remove structural risk factors.
Currently, Makagon must partner with outside universities to conduct this research. She hopes that in the near future, UC Davis engineers and animal scientists will come together—much like they have in David Slaughter's laboratory—to create new technology in-house.
"When you look at precision farming and see what is happening in technology, a lot of it is being led by engineers, and there is a need to have both the engineers and the people who are using it—whether on a farm or in a research lab— develop this technology together," Makagon said. "And UC Davis, well-known for our collaborative culture, is the perfect place to conduct this work."
Category
Tags